DALTON is developed and designed in close cooperation with Swedish fighter pilots. The watches are designed to endure tough, military conditions and pay tribute to the Swedish fighter jet heritage. The design is fully inspired by Swedish historical fighter jets that has been used by the Swedish Air Force throughout the years.

SALE OF 2019/2020 YEAR'S DALTON WATCHES
MALM Dalton case model in 316L stainless steel, 41 mm * 50 mm, 3 piece construction (case, bezel, caseback).
Screw-down, waterproof (10 atm)
Sapphire, double anti-reflective coating, protective coating against fingerprints.
SEIKO VK63, mecaquartz, +/- 20 sec/month, battery approx. 3 years.
Bracelet in 316L stainless steel or genuine leahter strap.
Numbers designed according to instruments and gauges in Swedish historical fighter jets, vintage yellow lume.
Shapes and design gathered from hands in different instruments and gauges in Swedish fighter jet cockpits.
Chronograph with timekeeping up to one hour. Center positioned chronograph second hand, left subdial indicates elapsed minutes. date at half past 4. Right subdial indicates hour (1-24).
Sweden is one of very few countries in the world manufacturing their own fighter jets. With over 80 years of experience developing and manufacturing military aircrafts, Sweden has become famous for their state of the art aviational technique and supreme defense capabilities in the air. With iconic and pioneering aircraft production like the Lansen, Draken, Viggen and Gripen there is a major Swedish aviational heritage to celebrate and to be proud of. This military heritage has become the main source of inspiration for MALM and the Dalton collection is our first contribution to the history of Swedish watchmaking and Swedish pilot watches.
When the plans to design and manufacture a Swedish pilot watch started to take off, the collaboration between MALM and the 212nd fighter squad division, callsign 'Dalton', began. The plan was simple but challenging. The pilot watch needed to be tough, easy to read and easy to use. It also had to be designed from scratch, without shortcuts, and all details and components had to have a reason and a story behind them. It needed to be available for all members of the squadron without a heavy price tag and it needed a design that was beautiful to look at.
At MALM all design work starts with pen and paper and so it was this time. For inspiration we looked at the different Swedish fighter jet cockpits, photographed the different gauges and instruments and started to design a new font combining the different numbers and indices. The idea was to mix smooth lines and sharp edges and give them different polishing and surfaces to create an exciting appearance, an exclusive yet discrete look. Further more we studied the air intakes of the Gripen fighter jet and designed the crown guards accordingly. Rugged metal surfaces was found on the joystick of the Viggen fighter jet and different parts of its cockpit, we applied it as a grip surface on bezel, crown and pushers. The latter is also inspired by the aerodynamic shape of an aircraft wing.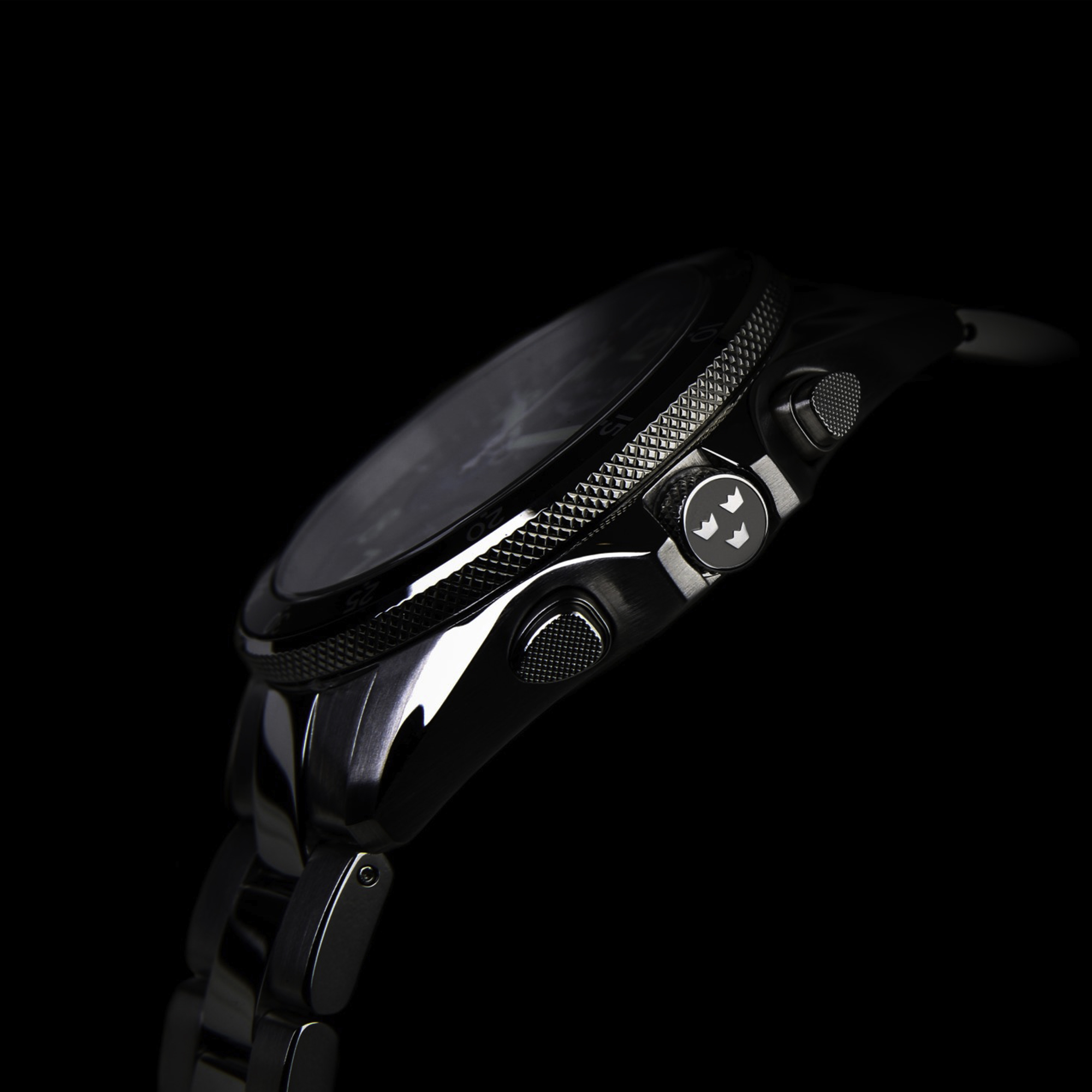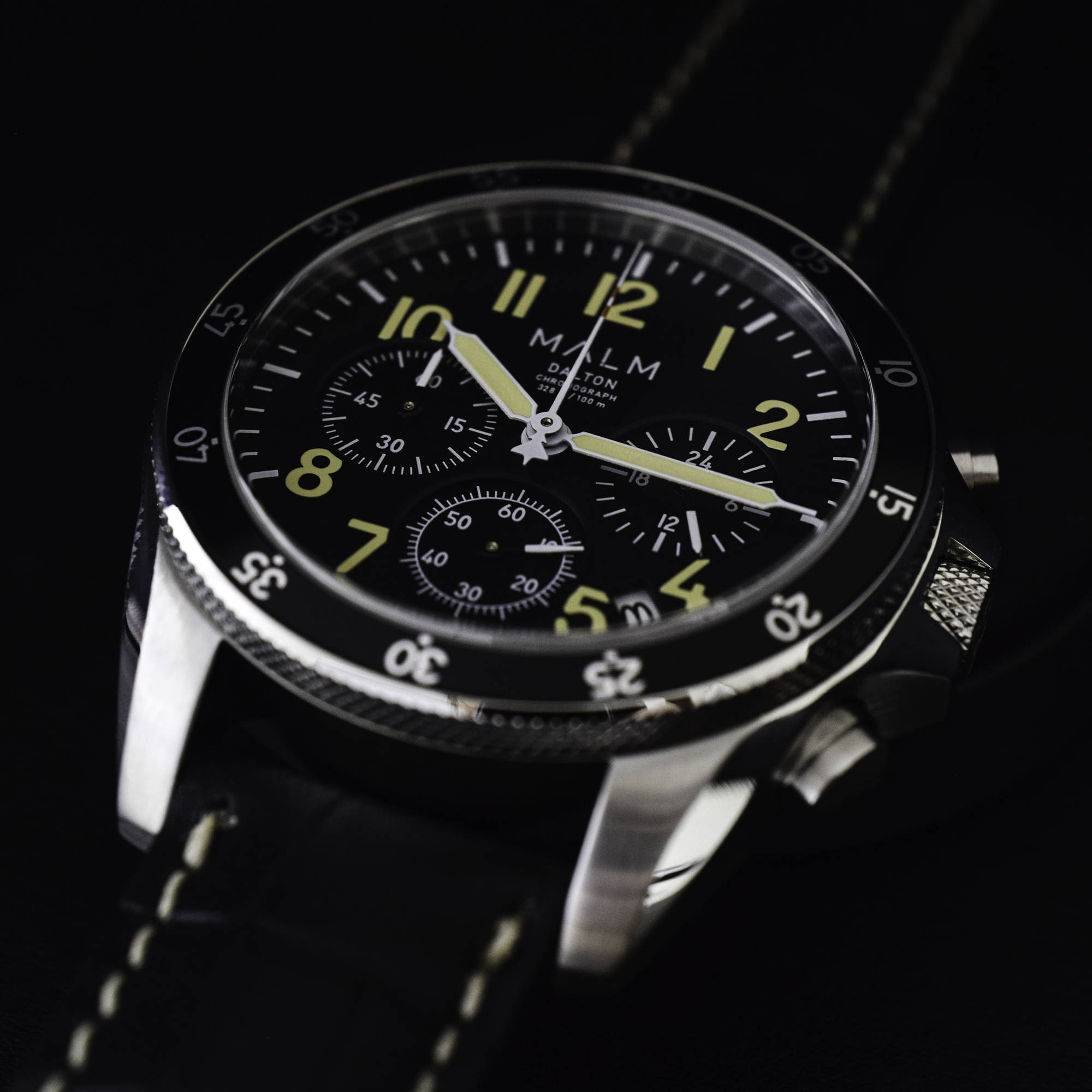 Regarding functionality the choice fell on a Seiko mecha-quartz hybrid chronograph movement. Seiko offers reliable movements with high durability, and the VK-series combines trouble-free use with its quartz technology as well as a premium look and feel with its mechanical chonograph with a center positioned sweeping second hand. Just like gauges in cockpit, the Dalton got a dark dial with large, white hands since this make the time most convenient to read. Both hands and numbers have a vintage yellow C3 lume to capture a classic aviation appearance.
The Dalton project turned out to be highly appreciated and spread widely across the Swedish Air Force. Today MALM manufacture and stock several different versions of the Dalton Choronograph for various fighter jet squadrons in Sweden and abroad. MALM has in a short period of time launched new military watch projects together with pilots, flight engineers, divers and soldiers of the Swedish armed forces.
choose between various straps and colors