AIR WOLF UTC is DEVELOPED TOGETHER WITH THE CREW OF THE 31st AIRCRAFT Maintenance DIVISION at f21, Luleå, in THE SwedISH AIR FORCE. THE AIR WOLF IS A robust, automatic tool watch with details collected from classic flieger watches and swedish fighter jets.
40 MM AUTOMATIC COLLECTION
RED LTD.
Limiterad edition – 10 watches available in two options.
Package deal including two additional straps.
Regular price: 787 EUR – save 88 EUR
MALM Air Wolf case model in 316L stainless steel with replacement barrel.
40 mm diameter, 11,9 mm height, 49 mm lug-to-lug, 20 mm between lugs.
4-piece construction: Flieger bezel, case, barrel and caseback.
Screw-down 4 o'clock, extra resistance 2 o'clock. Waterproof (10 atm).
Sapphire, double anti-reflective coating, protective coating against fingerprints.
Seagull 2836 (automatic), freq./h 28.800, 25 jewels, gold PVD
Bracelet in 316L stainless steel with, genuine leahter strap or nato strap.
Black base. Classic dial with C3 vintage yellow lume and Cockpit dial with BGW9 lume.
Inner rotating bezel to track and follow timekeeping in UTC. Index marks at 14 and 16 hours which is max. recommended working time and max. allowed working time for a Swedish flight technician.
CHANGE STYLE WITH NATO STRAPS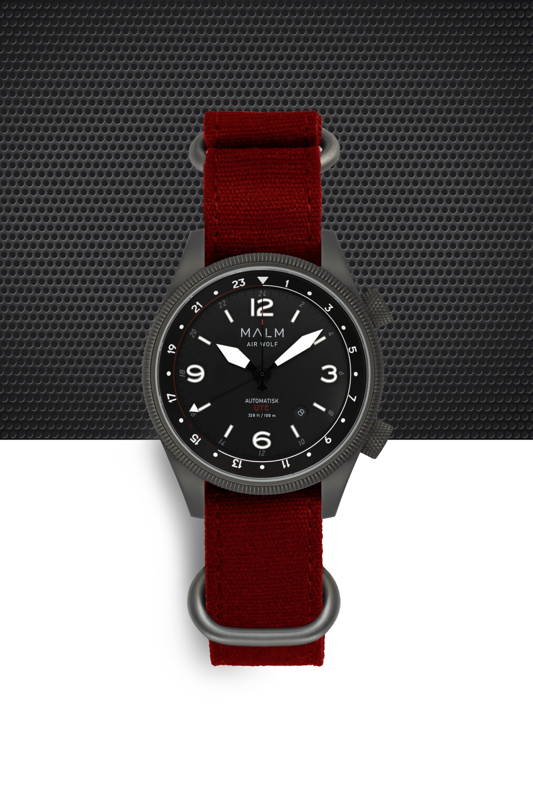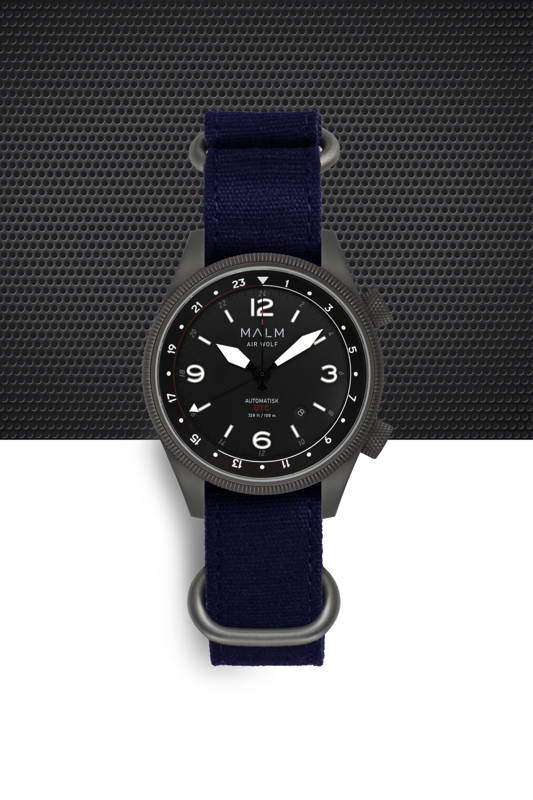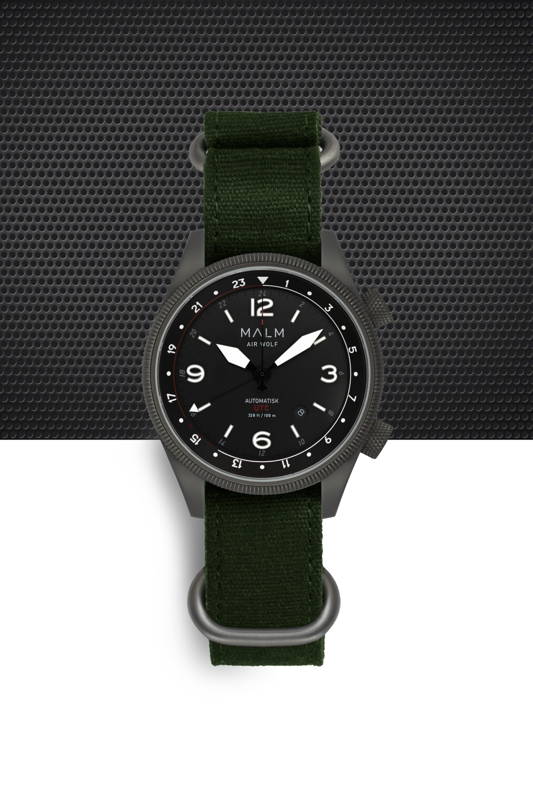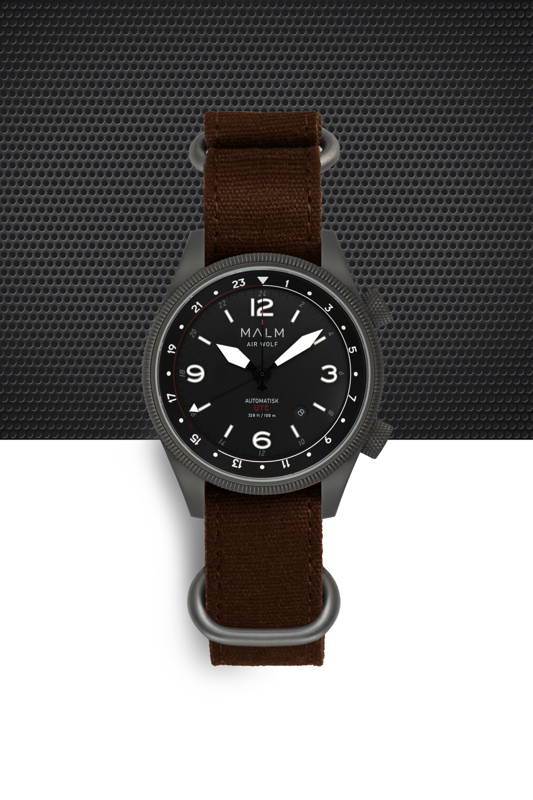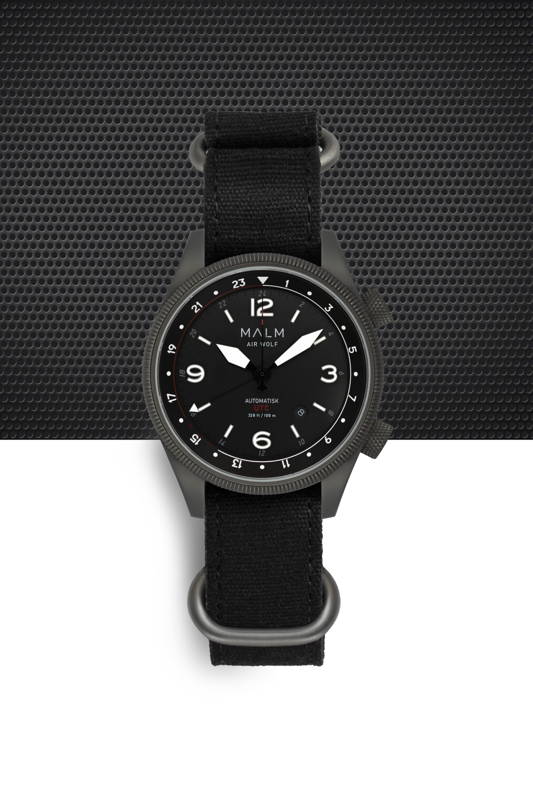 AIR WOLF UTC is the result of a cooperation between MALM and the crew at the 31st aircraft maintenance division in the Swedish Air Force. The purpose with the AIR WOLF project was to design and develop a proper, automatic pilot tool watch with an easy-to-read dial in dayligt and darkness. The case needed to be reasonably sized, have a surface that can withstand bangs and marks and equipped with the ability to track your working hours in UTC time.
Early on in the projectet we decided to start from a classic 'flieger watch' point of view when designing the watch. Classical flieger watches are both durable built and easy to read, with black dials and bright hands and numbers. However, we needed to downsize the watch case and give it a more reasonable fit for the aircraft maintenance crew who work in narrow and cramped spaces. We also wanted to integrate details from their tools and environment, and of course the current and historical Swedish fighter jets.
In order to add integrated details into the Air Wolf watch case we decided to design a 4-piece case construction with a replaceable barrel that encloses the complete watch case. The rugged steel surface of this barrel is collected by the many tools and grip-surfaces found in the environment of an aviation technicianand gives the complete watch design new exciting dimesions.Furthermore, we gave the case a matte, sandblasted finish that withstands expected marks as the results of working as a technician, and glare-proofed sapphire crystals in both front and back (see-through caseback) for best visibility. The bezel was placed inside the watch which in order to give it better protection and is operated by an extra crown at two o'clock position. This bi-directional inner rotating bezel is marked with a 0-24 index that can easily be used to track UTC-time. This bezel is also marked at 14 and 16 hours, which is maximum recommended working time and maximum allowed working time for an aircraft technician in the Swedish Air Force. Furthermore the bezel arabic numbers are collected from JA 37 Viggen cockpit gauges and the grey numbers from the J 35 Draken speedometer. For the person with sharp eyes, one can see the silhouette of JAS 39 Gripen in the watch's center positioned second hand.

The Air Wolf runs on an automatic movement from Seagull with an UTC function (28800 vph, 25 jewels). It measures 40 mm in diameter, 11,9 mm height, 49 mm lug-to-lug and 20 mm between lugs. The crown at 4 o'clock is screwed down and the crown at 2 o'clock has been given additional resistancy so that the bezel is properly fixed when using the watch. The watch is waterproof to 10 ATM / 100 m.