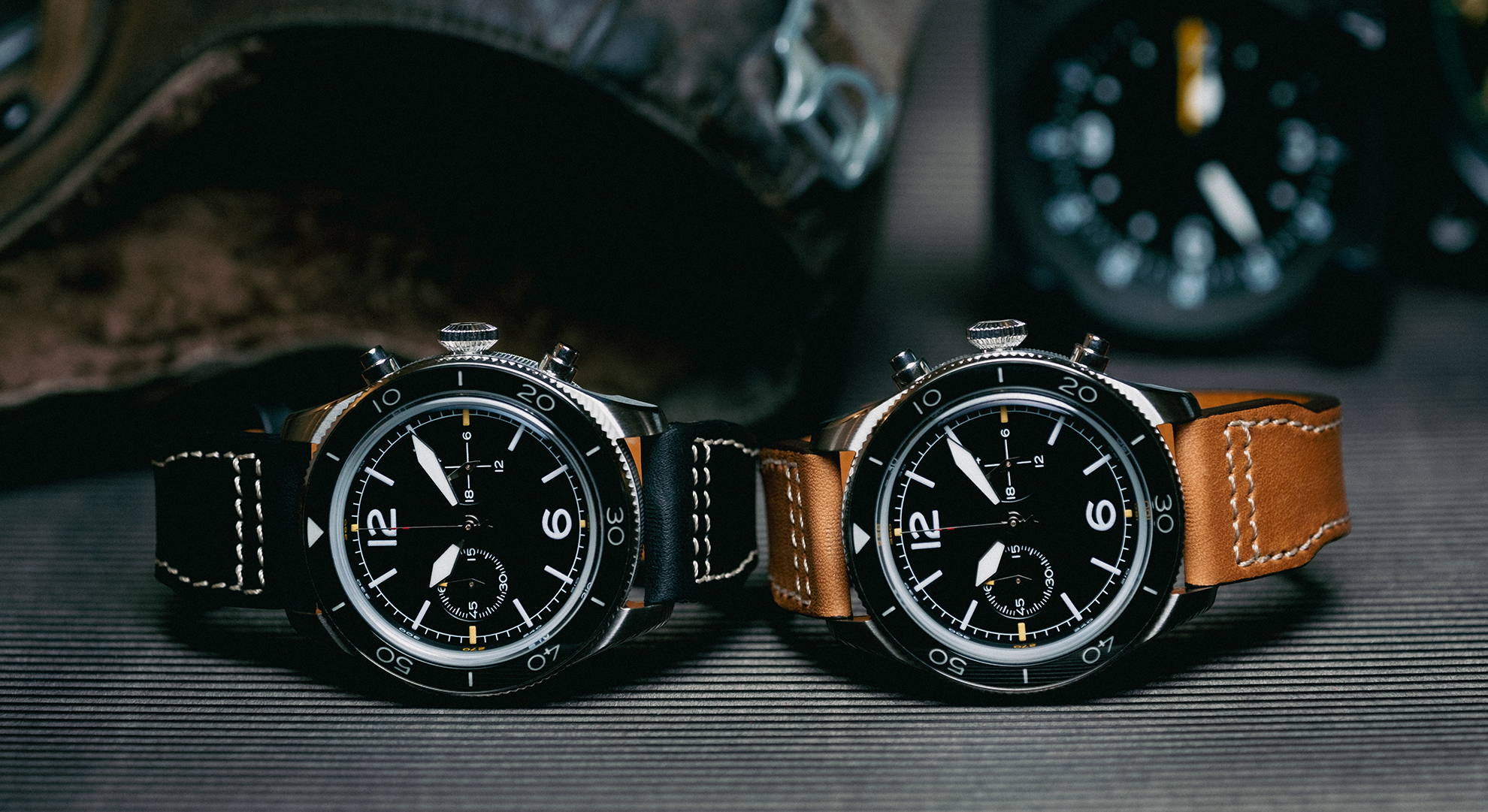 THE ACE PILOT WATCH is developed FoR THE ARMED FORCES PARTICIPATING IN THE ARCTIC CHALLENGE EXCERICES 2021 DURING 7TH - 18TH OF JUNE. THE WATCH IS DESIGNED TOGETHER WITH SWEDISH FIGHTER JET SQUADRONS.
ACE PILOT 2021 CHRONOGRAPH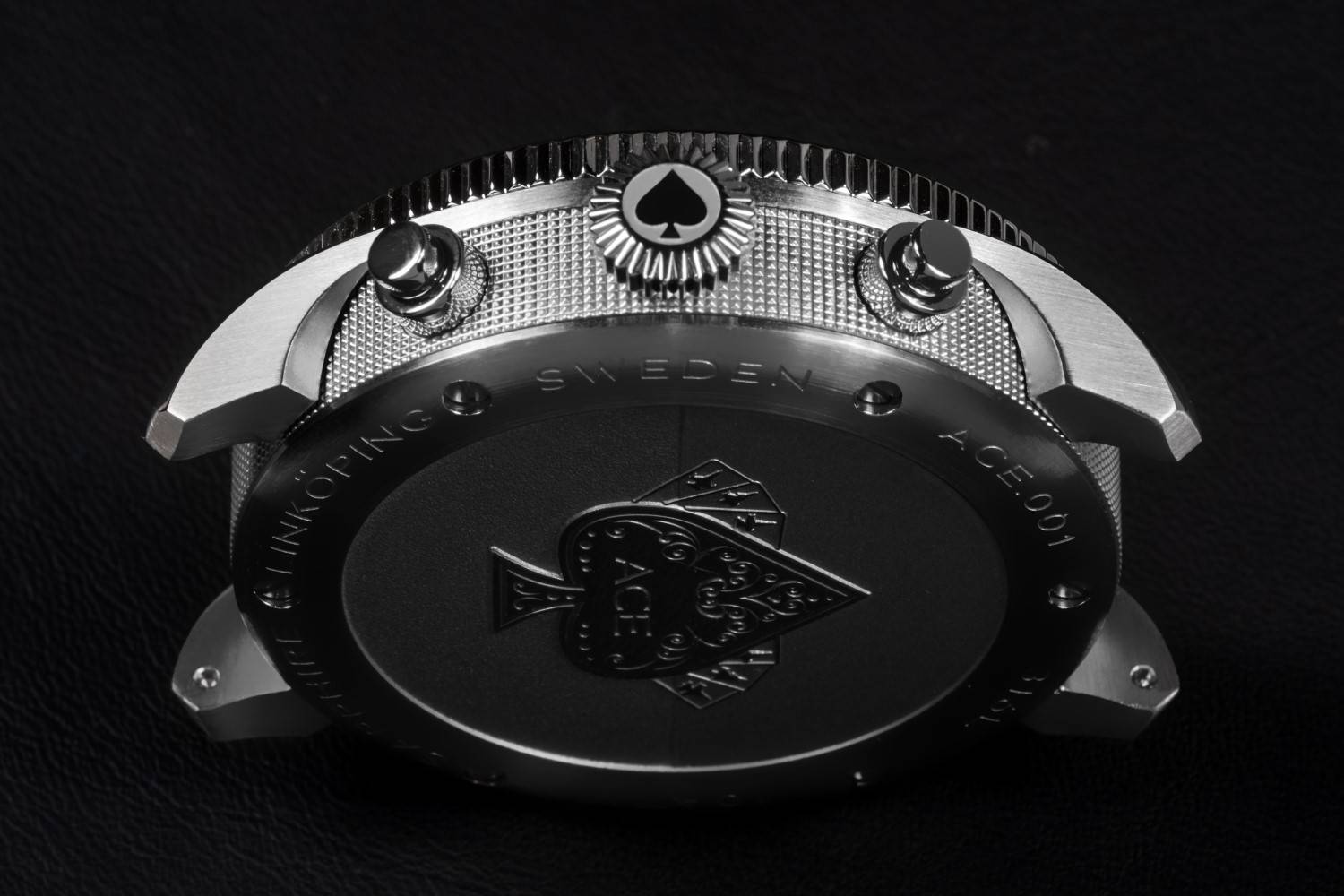 MALM Ace watch case model in 316L stainless steel. 4-piece case construction (case, bezel, barrel and caseback).
- Size/diameter: 44 mm
- Length lug-to-lug: 51 mm
- Height: 14,25 mm
316L Stainless Steel, ceramic insert with lume.
Screw-down crown, waterproof (10 atm)
Sapphire, double anti-reflective coating, protective coating against fingerprints.
SEIKO VK64, mecaquartz, +/- 20 sec/month, battery life approx. 3 years.
Unidirectional bezel, ceramic insert with C1 Swiss Super LumiNova lume.

Bracelet in 316L stainless steel, genuine leahter strap or canvas/nato strap.
Black, vintage white or orange panda dial. C1 Swiss Super LumiNova lume.
Shapes and design gathered from hands in different instruments and gauges in Swedish fighter jet cockpits. The JAS 39 Gripen aircraft silhouette on center positioned second hand.
Chronograph with timekeeping up to one hour. Center positioned chronograph second hand with silhouette of the Gripen aircraft, left subdial indicates elapsed minutes. Right subdial indicates current hour (1-24).
THE STORY OF THE MALM ACE 2021 WATCH
Every second year the Air Forces of Sweden, Norway and Finland hosts a large, multinational military excercise where more than 70 military aircrafts and 3000 personnel participate. This event is called the Arctic Challenge Excercise and has been conducted since 2013.
For the Arctic Challenge Excercise in 2021 MALM has been working on a new and unique pilot chronograph wrist watch together with Swedish fighter pilots and fighter jet squadrons. The watch pays tribute to ACE and participating military personnel.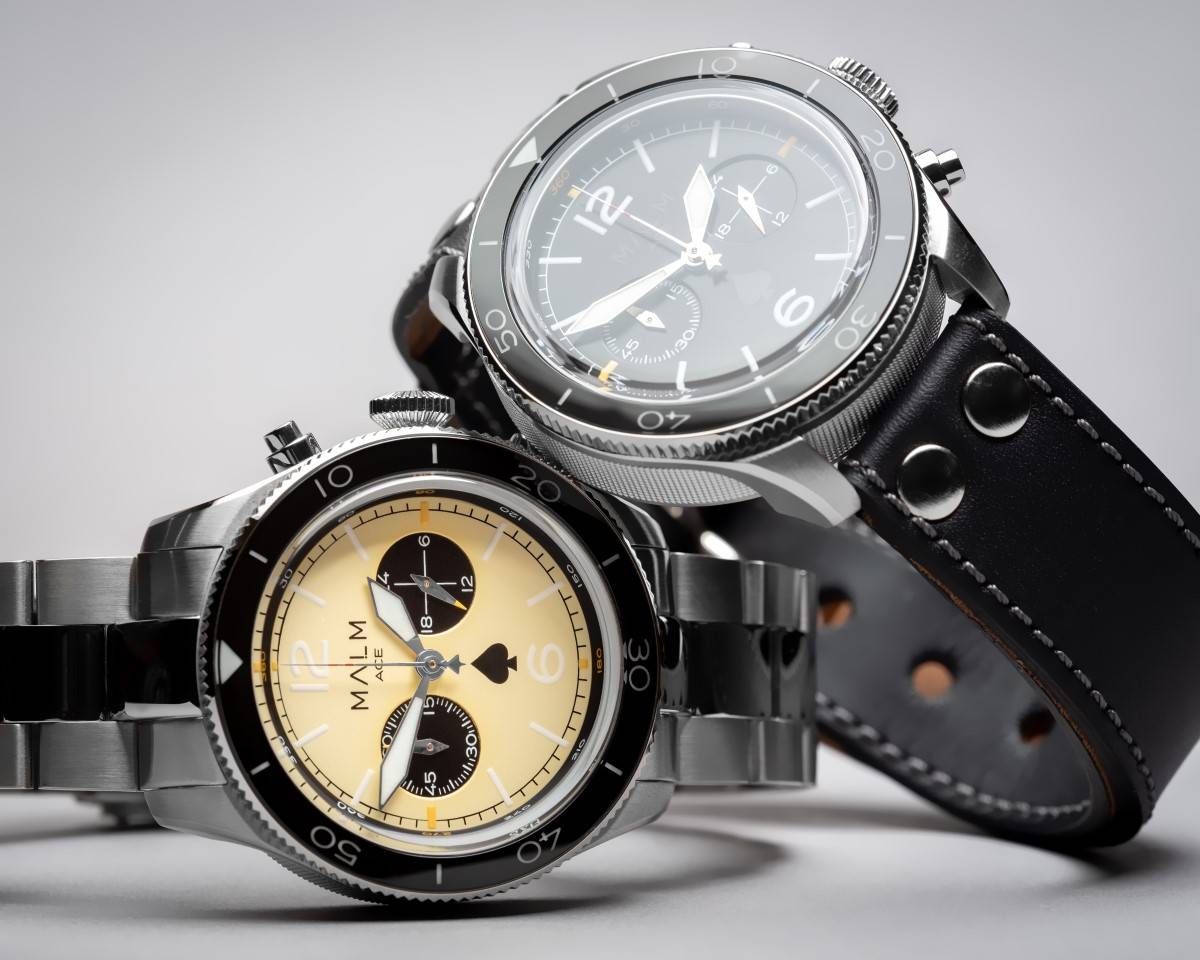 The ACE watch is built by using a special 4-piece watch case construction; a bezel with black ceramic insert, a stainless steel middle case, a aluminum barrel and a solid stainless steel caseback with an oil-pressed custom made ACE-logo. The ACE watch measures 44 mm in size and has large and clear sword-hands equipped with white C1 Swiss Super LumiNova lume inspired by the hands in traditional cockpit gauges. It has a 14,25 mm height and measures 51 mm from lug-to-lug.
The idea behind the design and specifications is to offer a proper pilot chronograph watch that is very durable, easy to operate and easy to read in daylight and darkness. The rugged metal surface on its barrel is inspired from various grip-surfaces in cockpit, the design of the large screw-down crown is inspired from classic and historical flieger watches, and the center postioned chronograph second hand hosts the silhouette of the Swedish Gripen fighter jet.
The ACE-logo on the watch caseback is designed by MALM using an Ace Of Spades symbol. Instead of regular playing cards, silhouettes from participating aircrafts are displayed; the Gripen, F16 and F18 Hornet. The serial number starts with ACE.001 and is assigned to each owner in chronological order.